Notice of December 12 Board Meeting. 6:00pm in the LCHS Media Center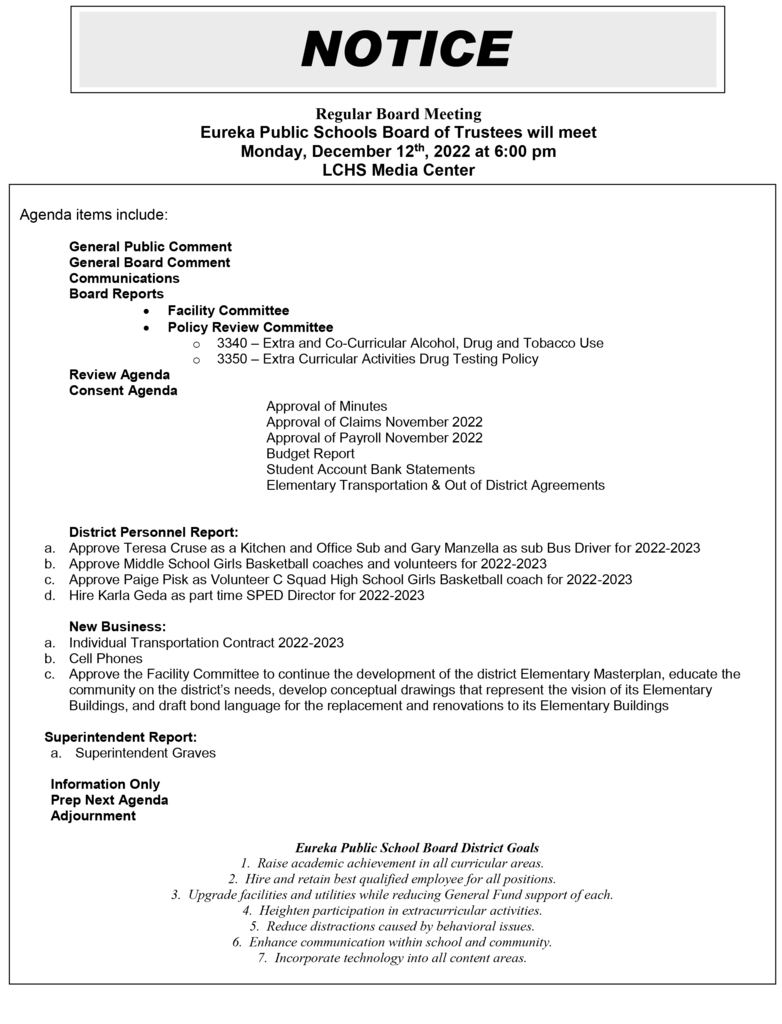 A Big Thank You to InterBel for donating First Aid Kits to the school. Your support of our students, activities, and athletics is very much appreciated!

Eureka Public School Board Notice for November 14, 2022. Meeting at 6:00pm.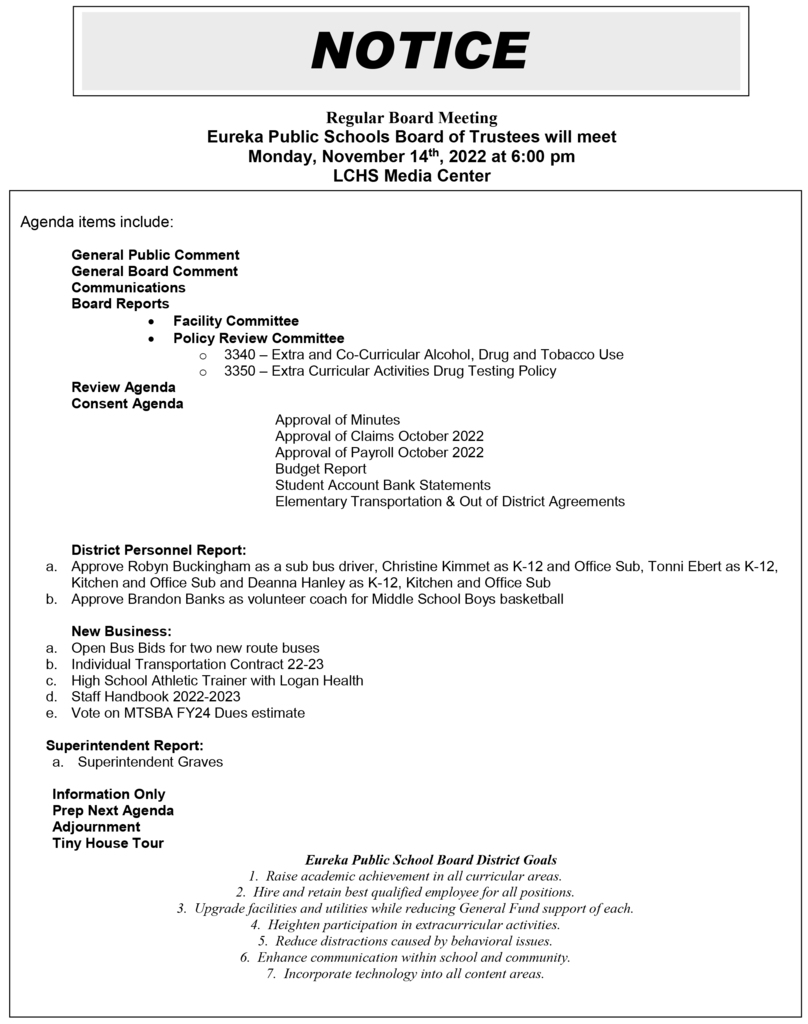 Reminder, please come join us this Thursday and honor our Veterans. Assembly begins at 10:15am in the LCHS Gym.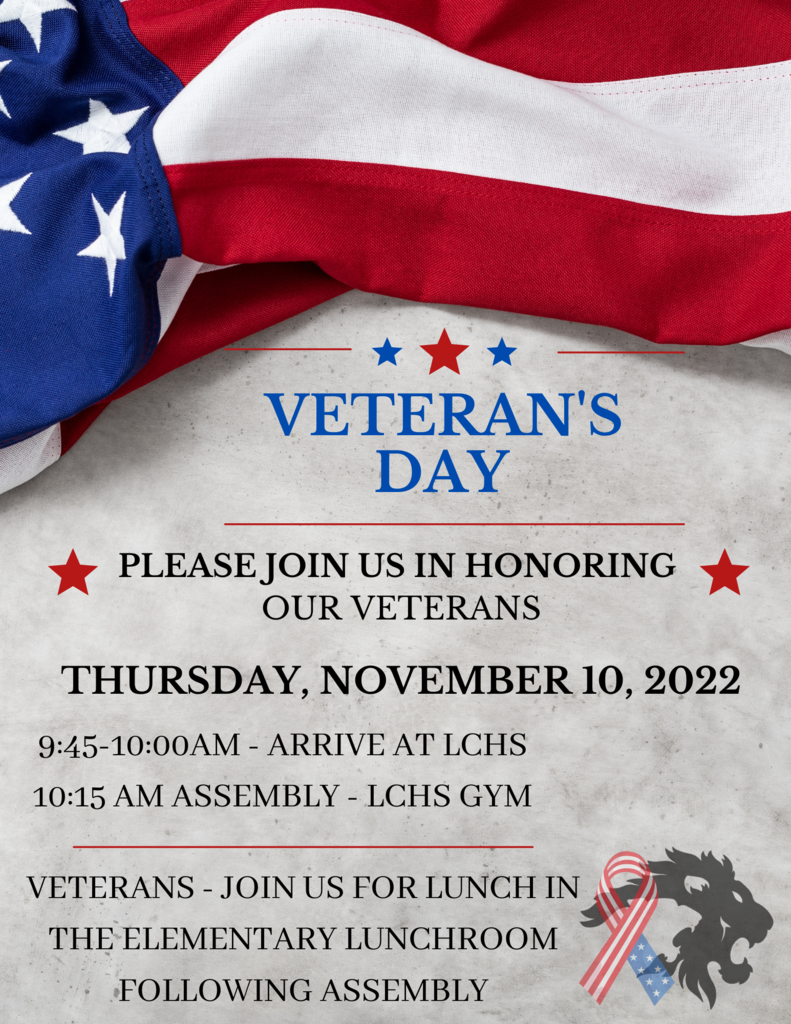 Sunburst Arts is excited to bring the Missoula Children's Theater to Eureka on November 14-19. This year's performance is Hansen & Gretel. Auditions will be held on November 14 at 3:45pm in the LCHS Auditorium. The performances will be held on Saturday November 19 at 3:00 and 5:30. Approximately 50-60 students will be cast to appear in the show. For more information, please click on the following link: tinyurl.com/3zkdjtb6. If you have any questions please contact Sunburst Arts at
mtsunburst@yahoo.com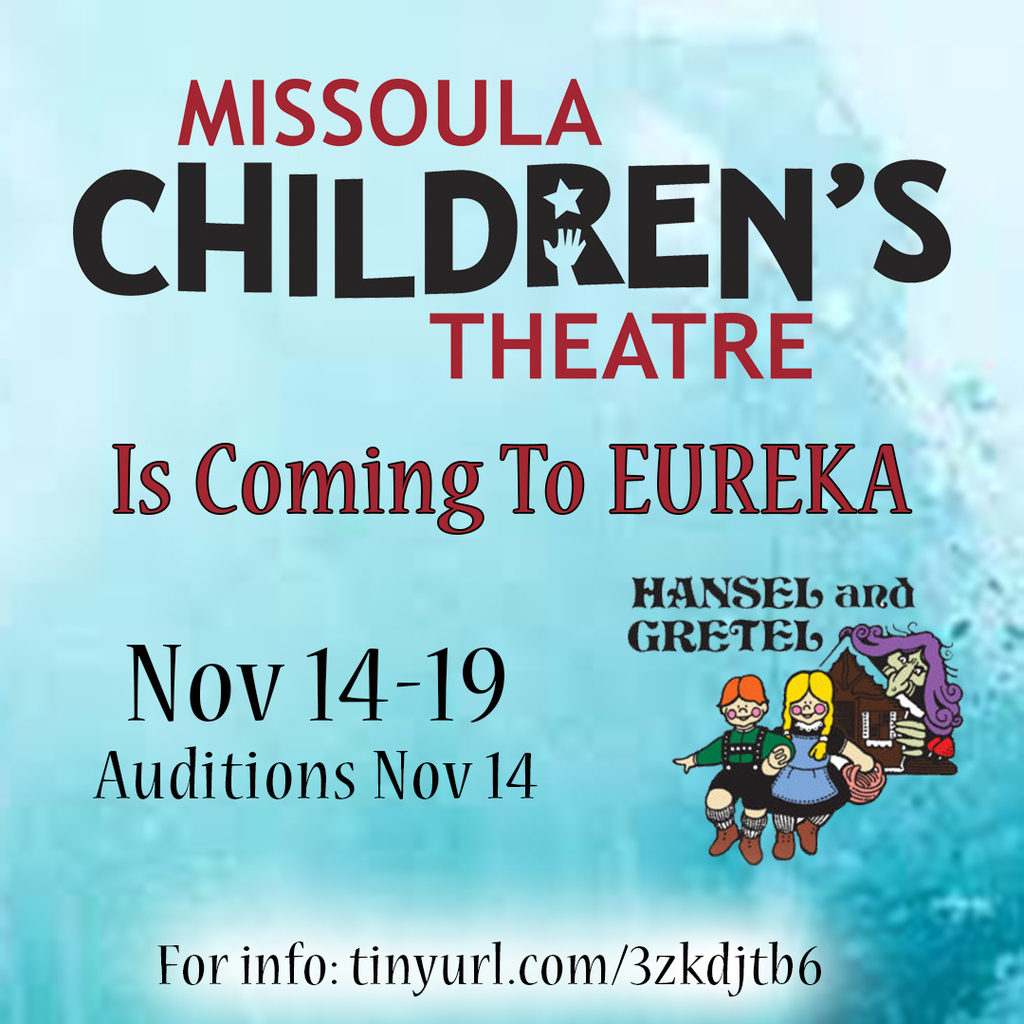 Drivers, we have had 5 red light bus stop sign violations in only 2 months since school started. Please be safe around school buses, and if you see amber lights, slow down. When lights are flashing red and the stop sign is extended, you must stop. State law states you must be approximately 30 feet away from the school bus at any stop. As a reference, most pickups are around 20 feet in length, so a good rule of thumb is to stop 2 car lengths away from the bus at a stop. Let's keep our kids safe!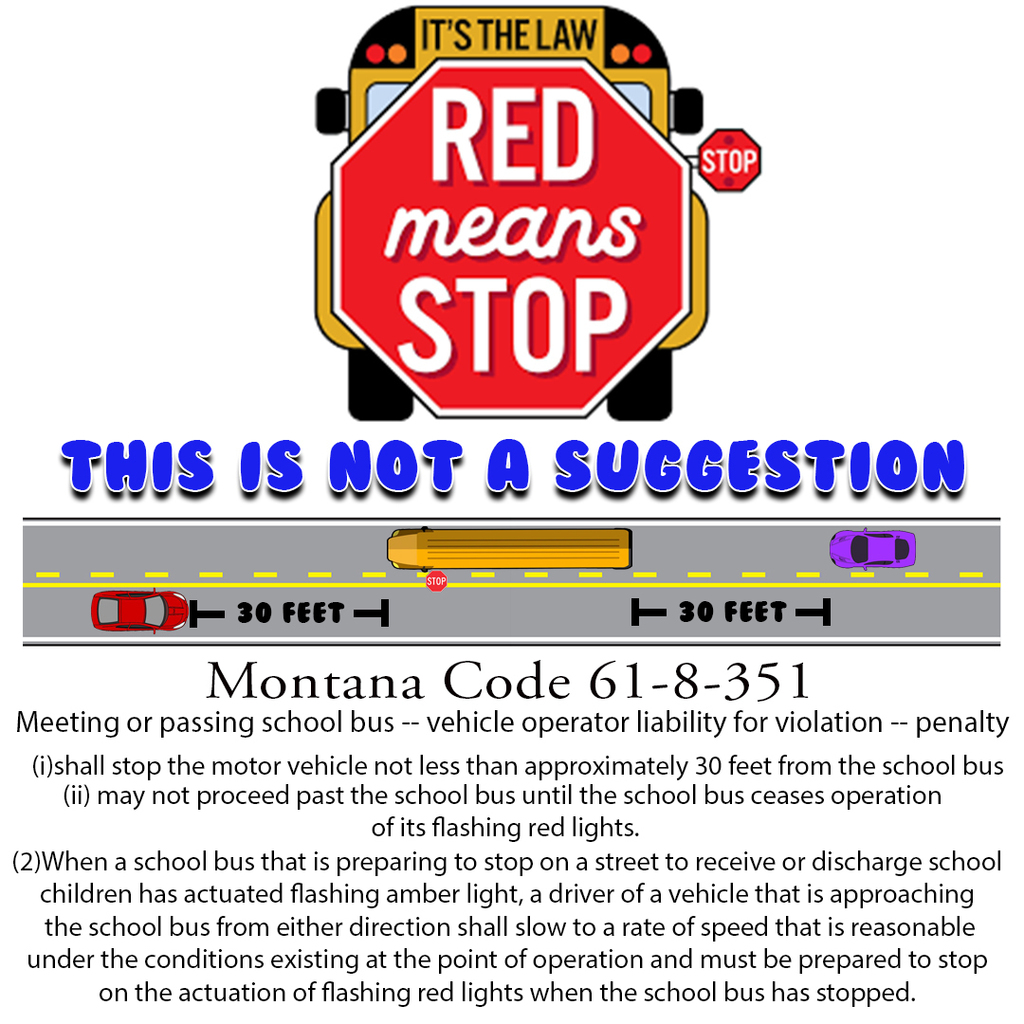 Come honor our Veterans with us on November 10 at 10:15am!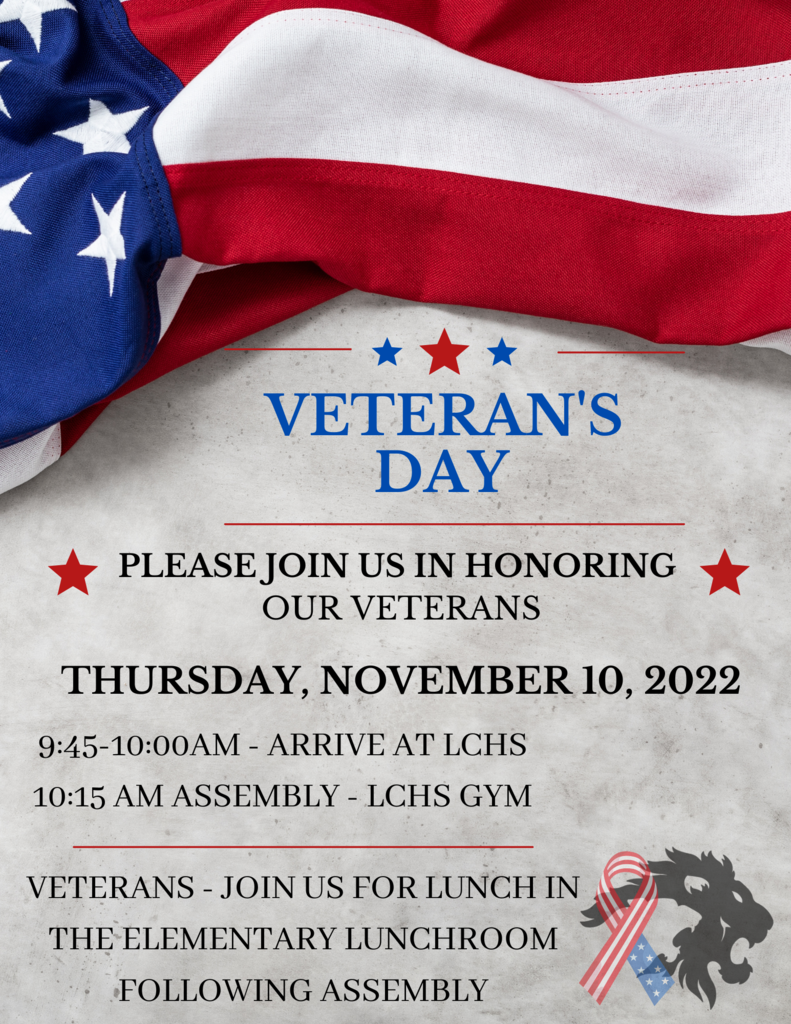 Eureka Join the Pride is hosting their 2nd annual Trunk or Treat on Halloween from 6:30 to 7:30ish in the high school parking lot. Come and enjoy games, prizes, candy, and more!

The Lincoln County Health Department will be offering flu vaccines for students after school on Thursday, November 3 from 3:30-4:30pm. No appointments needed. A guardian must be present. If you have any questions, please call 406-283-2447

The 7th and 8th grade volleyball teams ended their seasons this past week with tournaments. Both teams finished strong, making our school, community, and their families proud! Congratulations Lady Lions!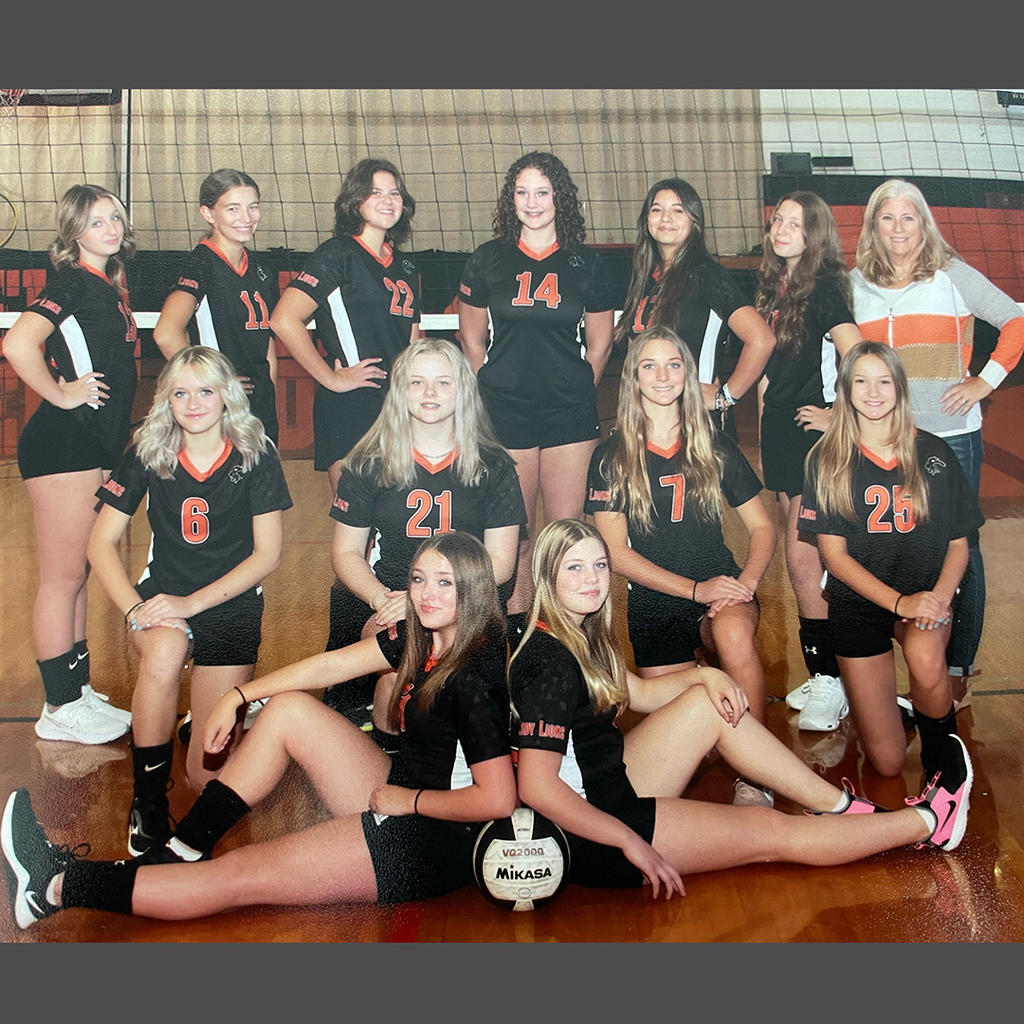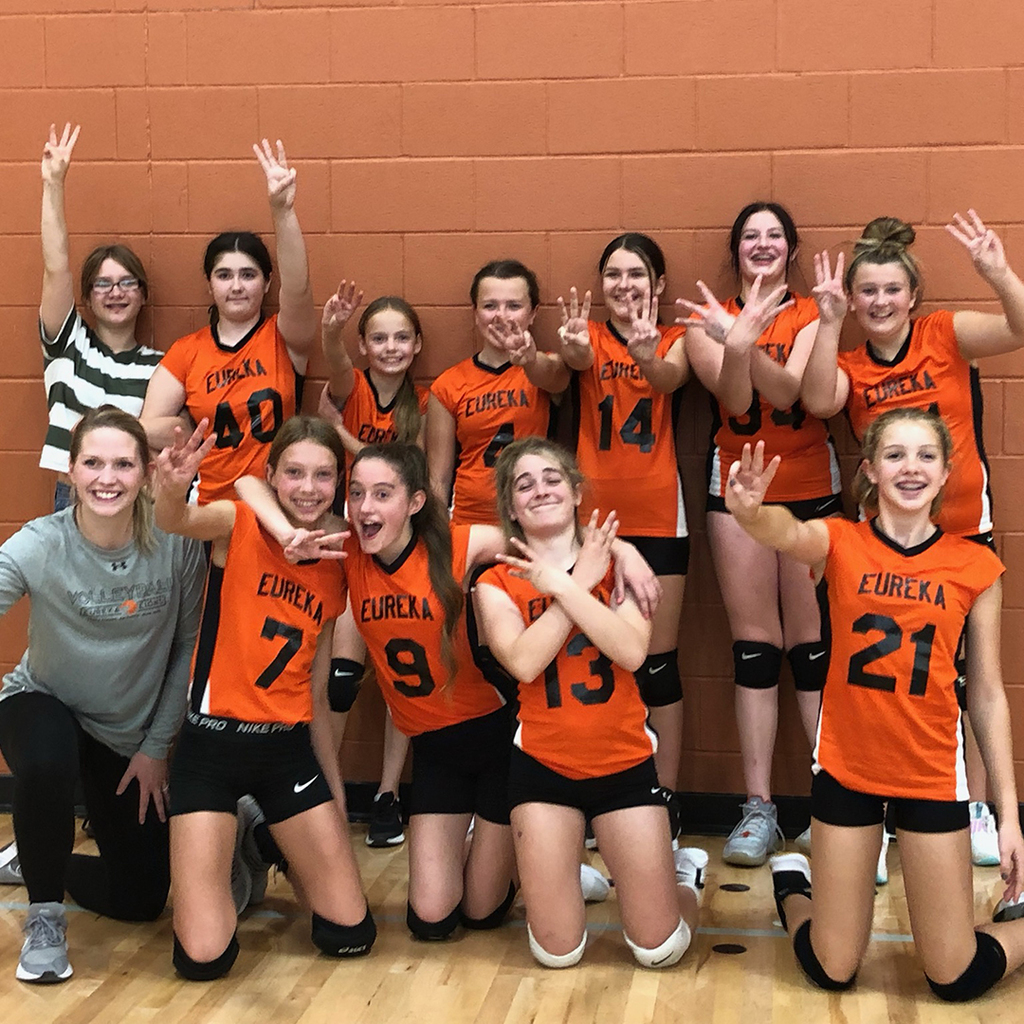 Today, we have some special guests visiting the Elementary School. First responders from Fire and Ambulance will be at school. You may hear sirens today. It is not an emergency but a learning opportunity for our students. They will be here from 10am-1pm.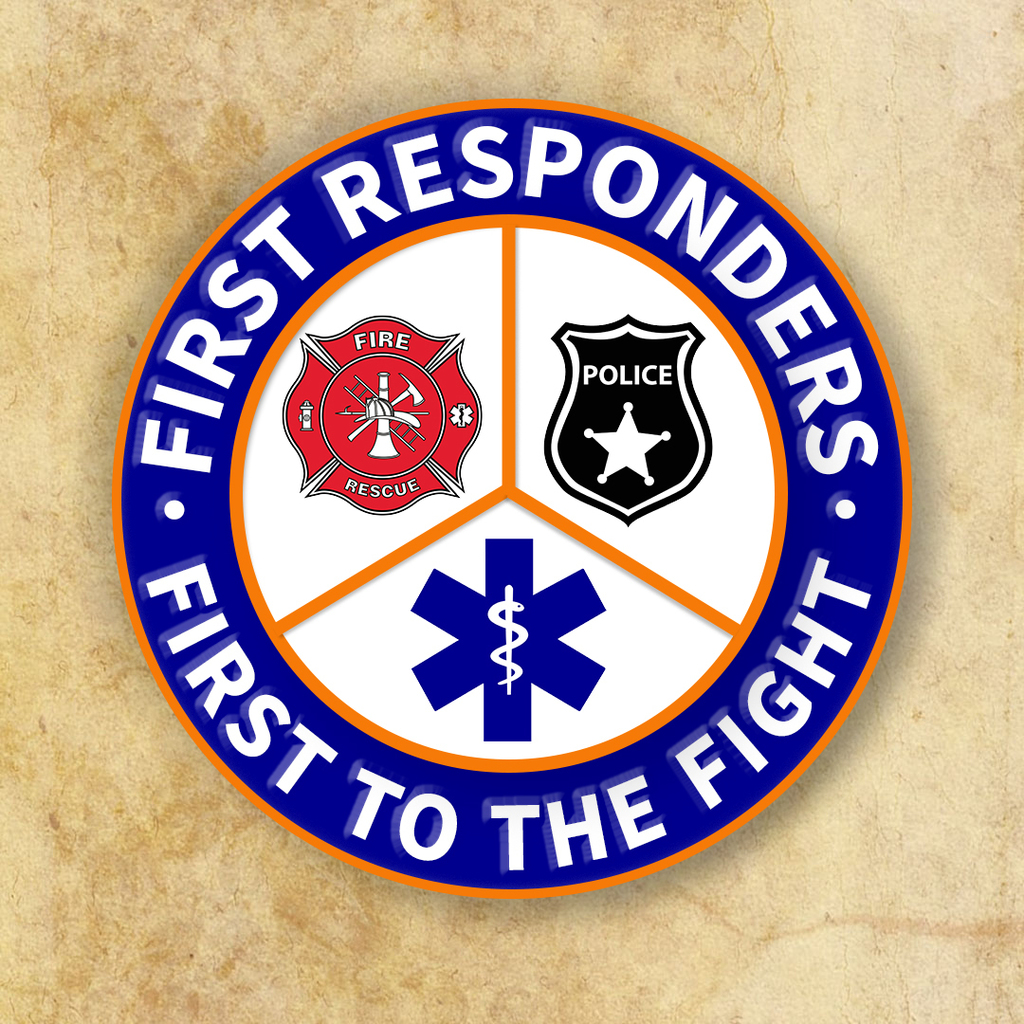 Reminder, no after school program next week 10/17-10/21

Eureka Public School District is accepting applications for a full time custodian. District Applications and job description are available at
www.lchigh.net
or at the Central Office, LCHS 340 9th Street, Eureka, MT 59917, 406-297-5630 or by email. Please contact Amy at
ayarus@teameureka.net
. Eureka Public School District #13 is an E.O.E.

Reminder, students will not be in school this Friday, September 23. It is a PIR Day and school staff will be in training all day. Have a great 3 day weekend! Go Lions!

Eureka afterschool program is registering students now! We have offerings for K-4 and 5-8 students. Please visit
https://bit.ly/21STAFTERSCHOOL
to sign up your child! Information is provided on the form. Space is limited so don't delay.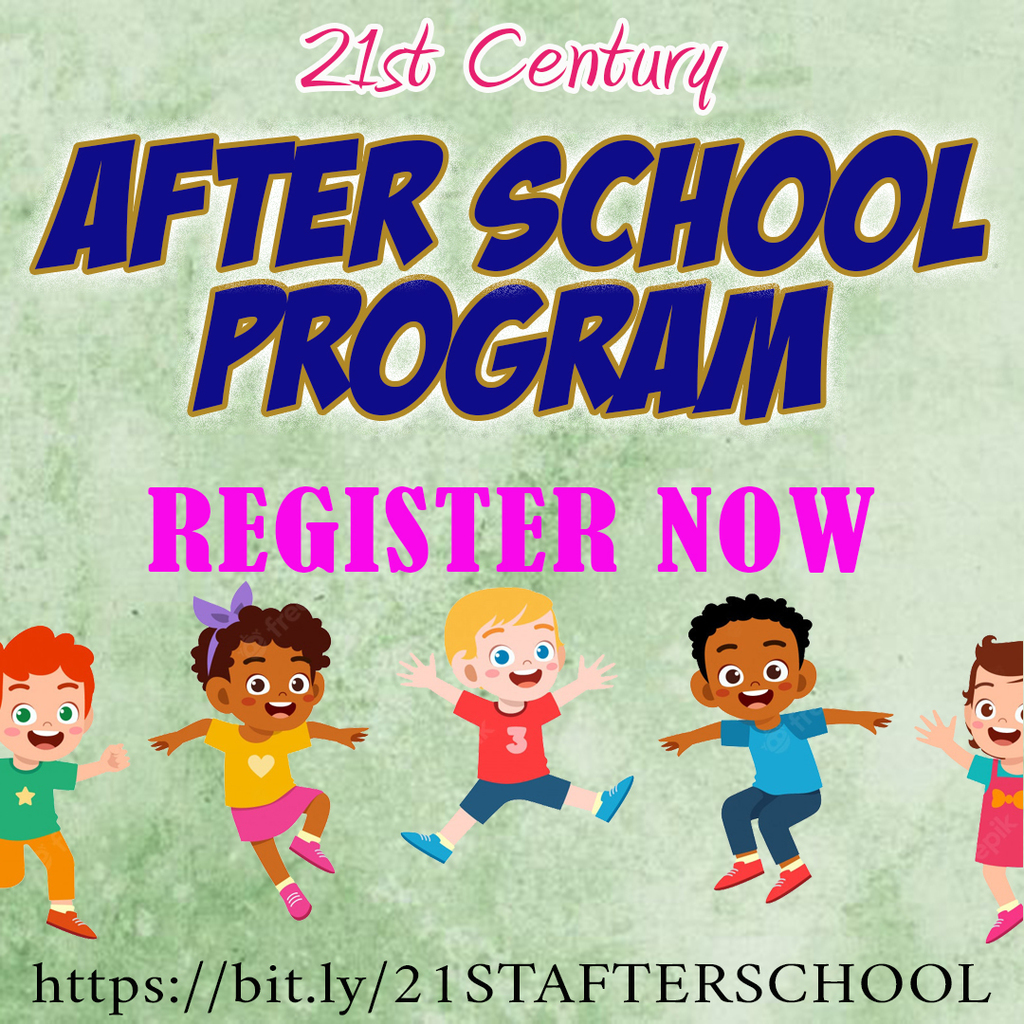 We are excited to announce an upcoming educational travel experience opportunity for students to visit Peru in Summer 2024! When students travel, they expand their knowledge of the world around them, discover more about themselves, and grow more confident. These skills are critical for creating the global citizens of tomorrow, and I would love to have your student join me on this adventure. Come hear all the details, including the itinerary, activities, academic opportunities, the cost of the trip and EF's risk-free enrollment period at our informational meeting on September 22 at 5:30 PM at the LCHS Auditorium. Please click here to register for the meeting ASAP to save your seat:
https://bit.ly/3cQMWw8
. There are limited spots on this trip, so we would love to have you attend this meeting to learn more about this exciting opportunity!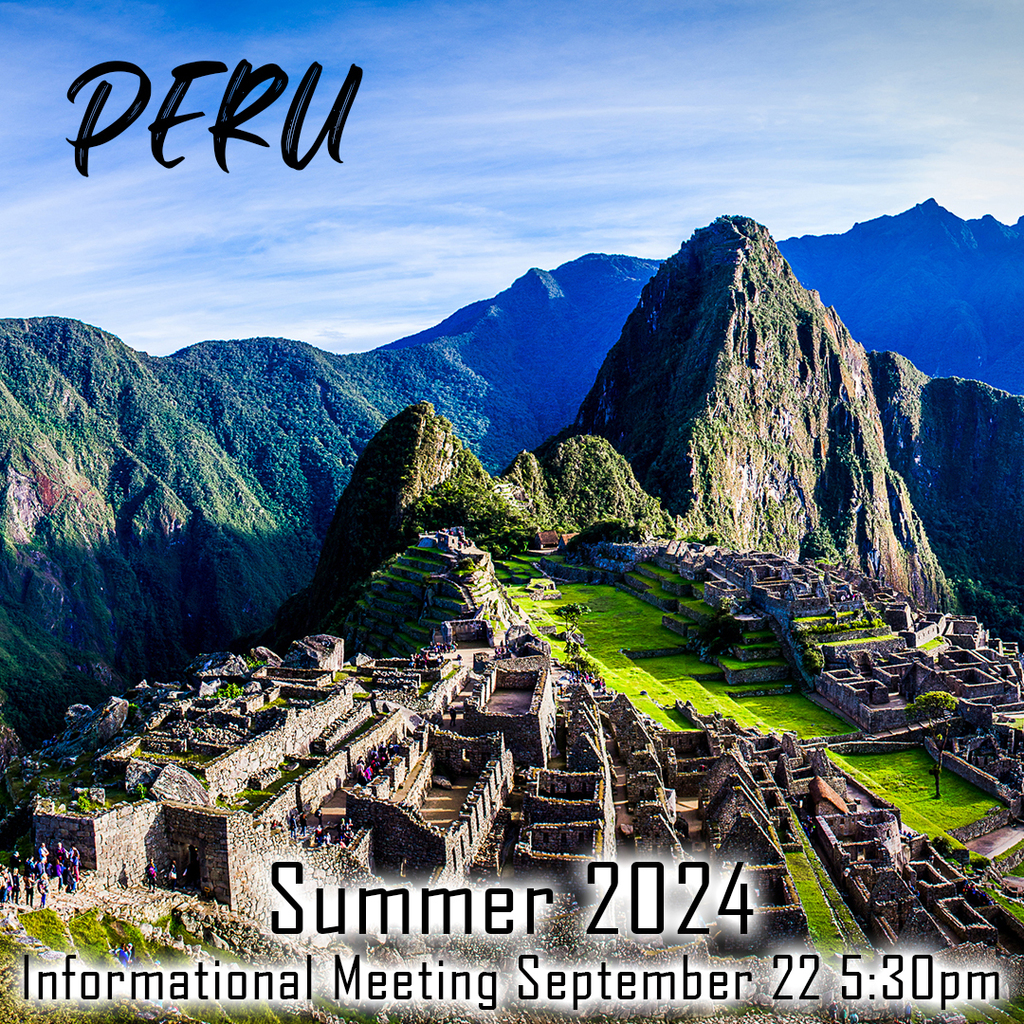 Eureka School Board Meeting is scheduled for September 12 at 6:00pm in the the LCHS Library.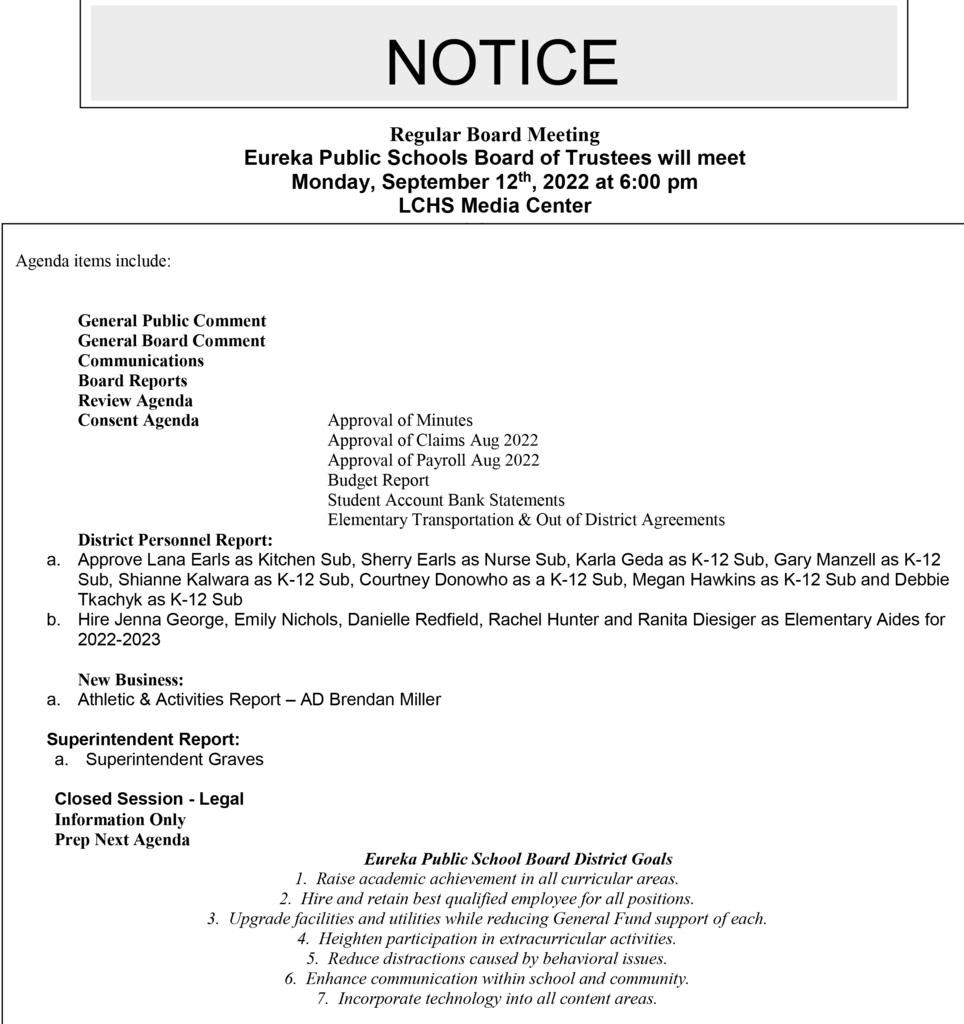 Parents, your child may qualify for free/reduced lunch. Please scan the code on the picture, or go to
https://dca.opi.mt.gov/frapp
, and fill out the form. Results will automatically send to us. Select Eureka Public Schools. You do not need to do online if you completed paper version and turn in to school. Thank you!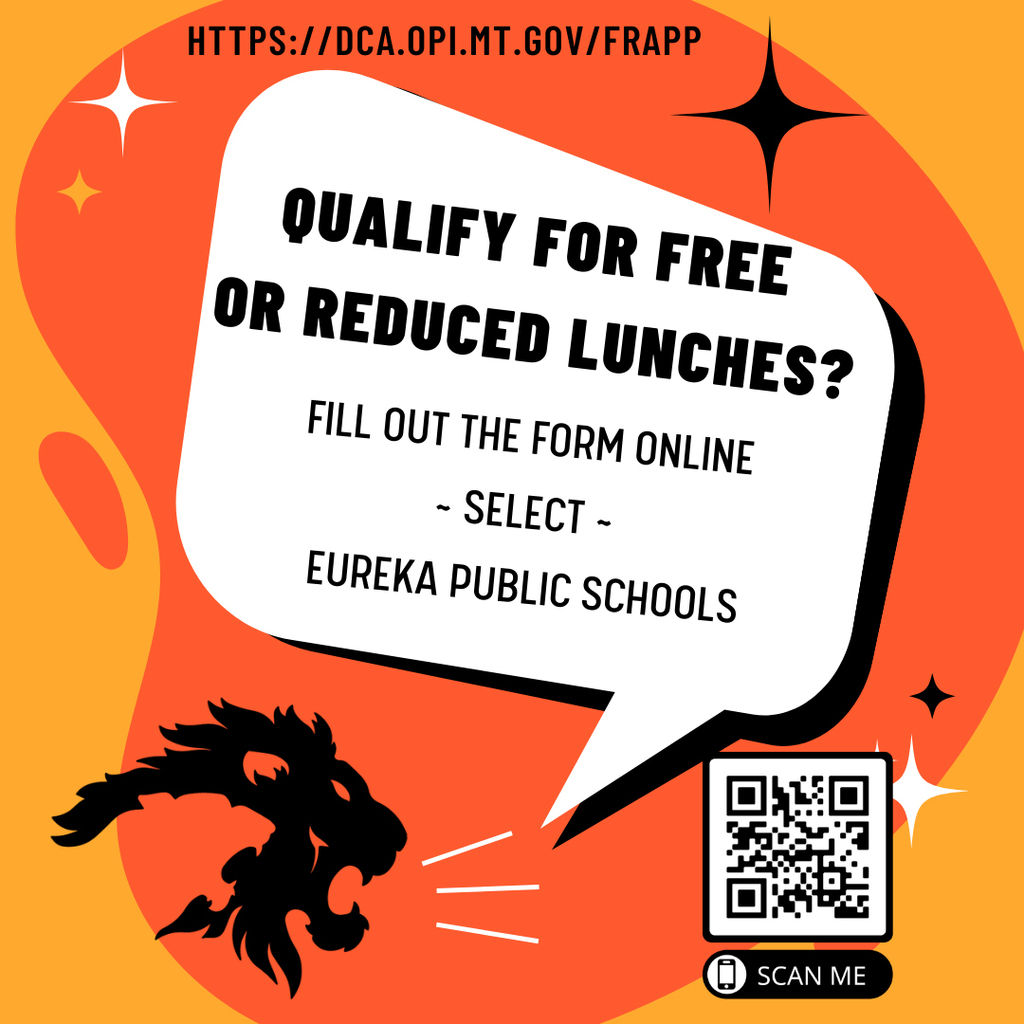 Picture day is coming up. Swan Lake Studios will be here September 6 to take pictures of the High School and Middle School Students. Picture Packets have been given out to all the students. Elementary student pictures will be taken on Sept 21.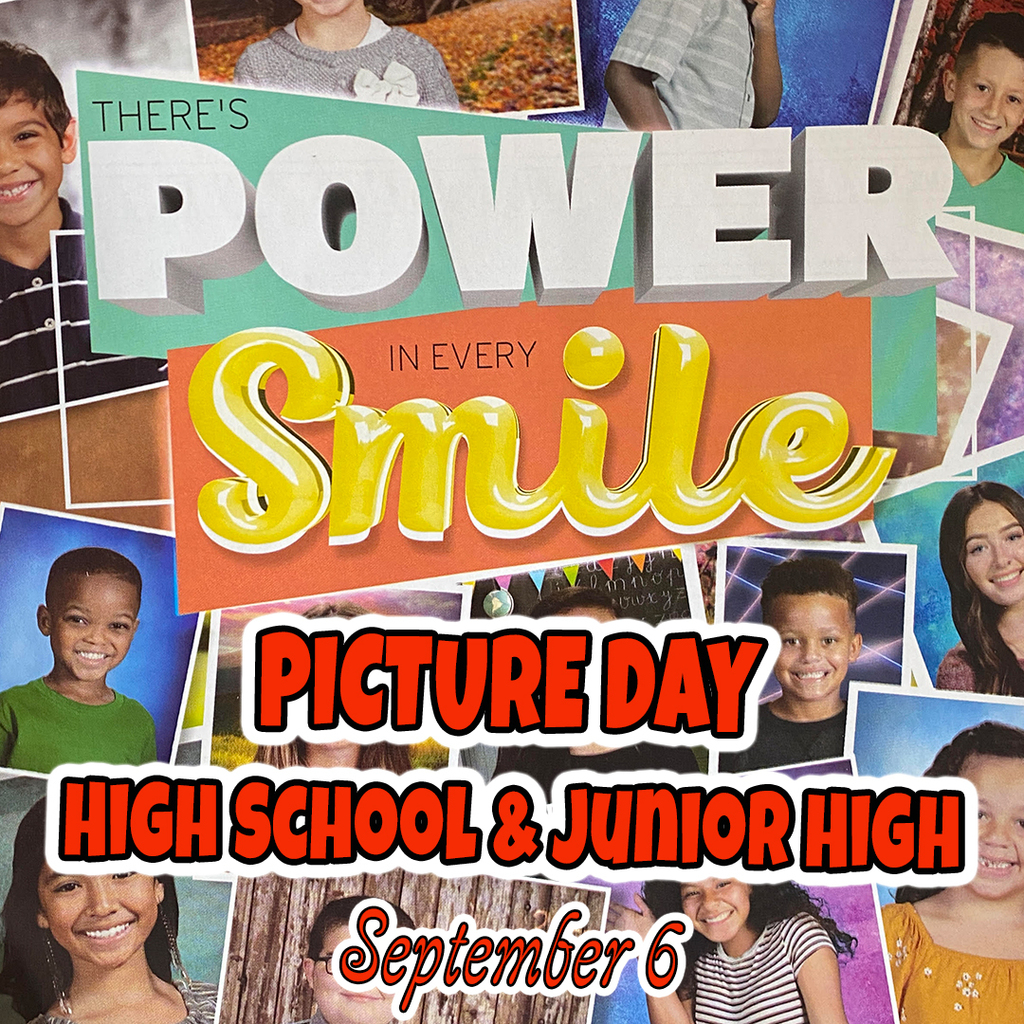 Welcome back students and staff for the 2022-2023 School Year! We are all excited to begin the new school year. Parents and Students, please do not hesitate to contact building principals with any questions or concerns you have! It is going to be a GREAT year! Go Lions!