Eureka Public Schools next School District Board Meeting will be Thursday, March 16th, 2023 in the LCHS Media Center at 6:00 p.m.

Eureka Public Schools next School District Board Meeting will be Thursday, March 16th, 2023 in the LCHS Media Center at 6:00 p.m.

Congratulations to Declan P., the w inner of 2023 Middle School Geography Bee!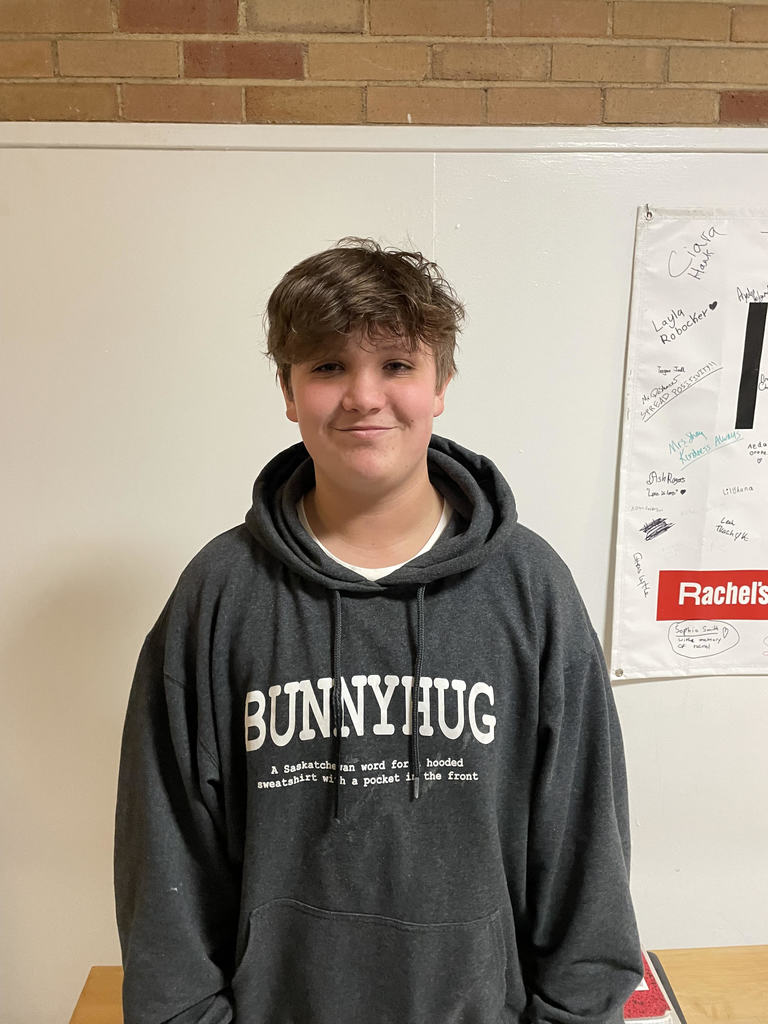 Eureka Public School February Board Meeting Notice. February 13, 6:00PM in LCHS Library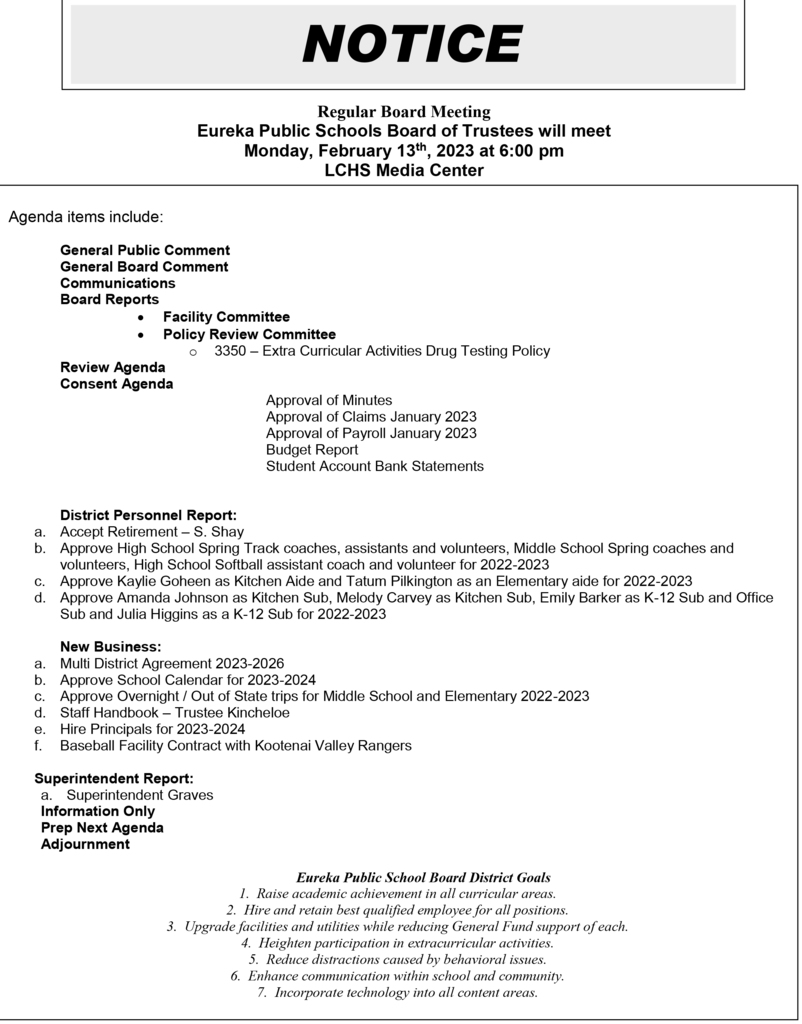 Congratulations to 5th Grader Gavin P, the winner of the Eureka Middle School Spelling Bee. Also qualifying for the county meet on Feb 23 in Libby are Shantel S., Ronin F., Layla R., and Ally R. Great job to all those participating in the bee.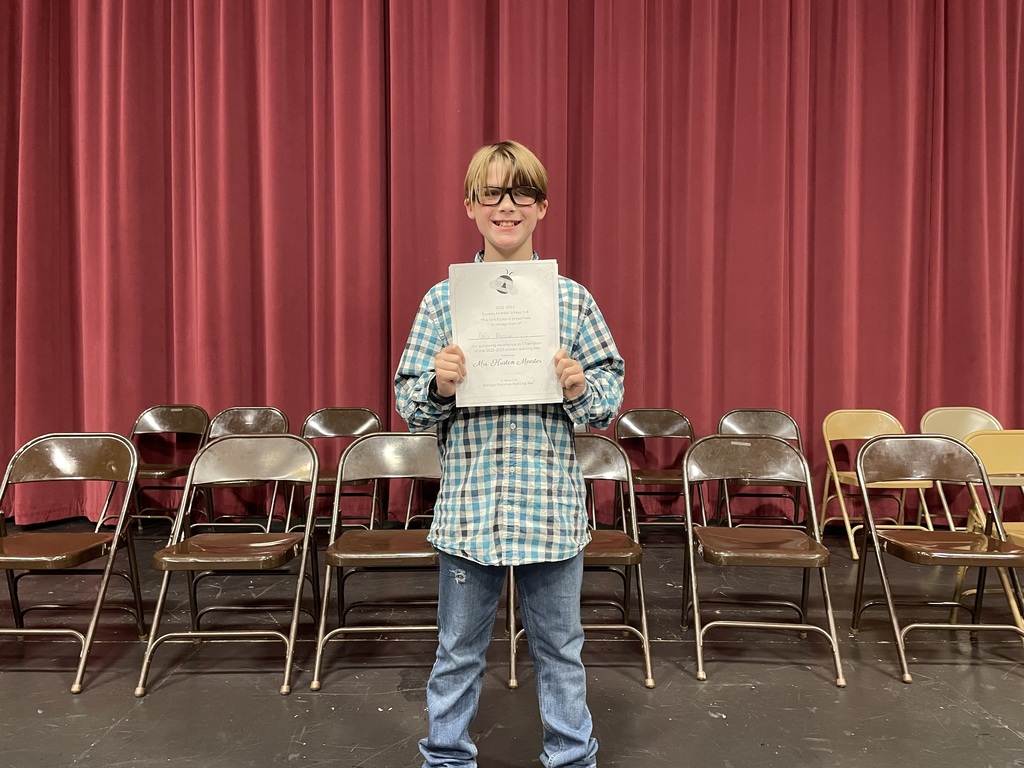 Eureka 7th and 8th grade sign language students recently completed their American Sign Language (ASL) finals. They had to hand sign either a children's book, a school appropriate song, or a poem to the class. The students worked very hard and did a great job!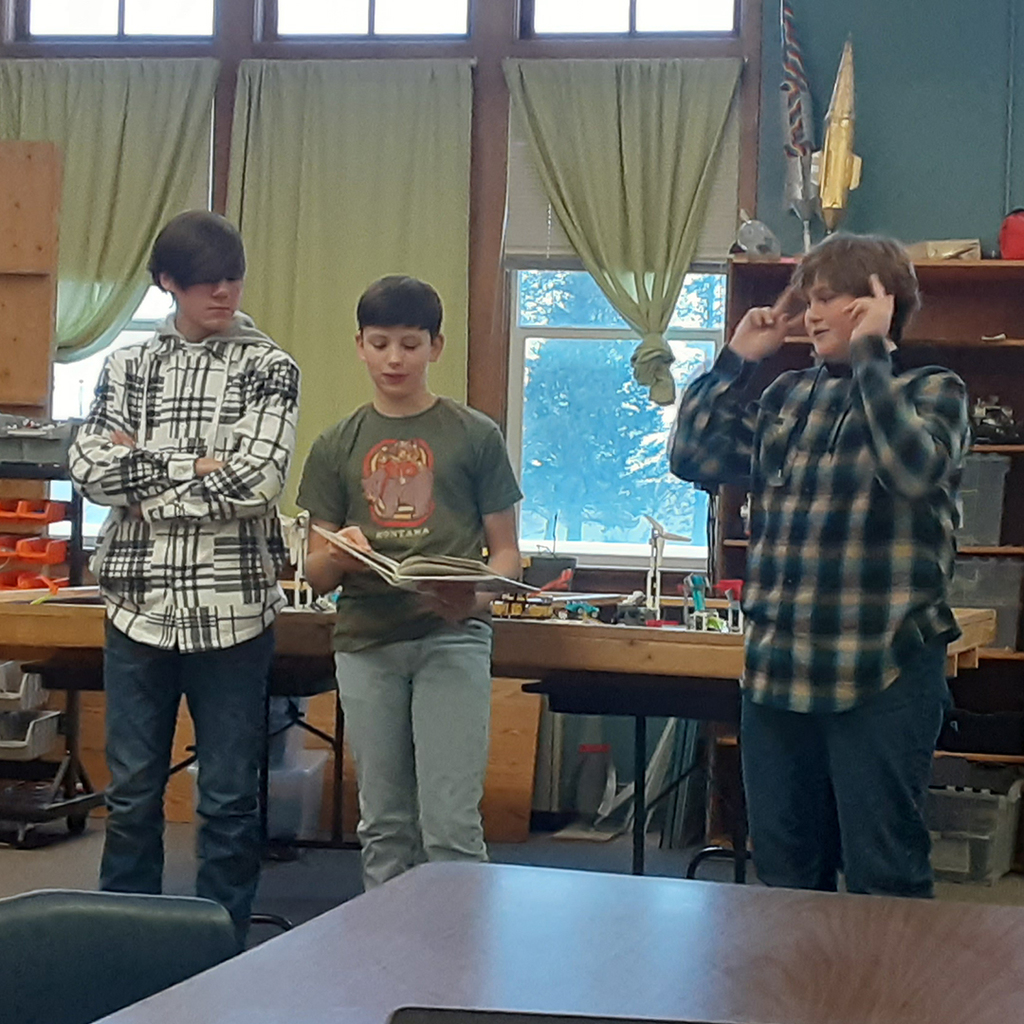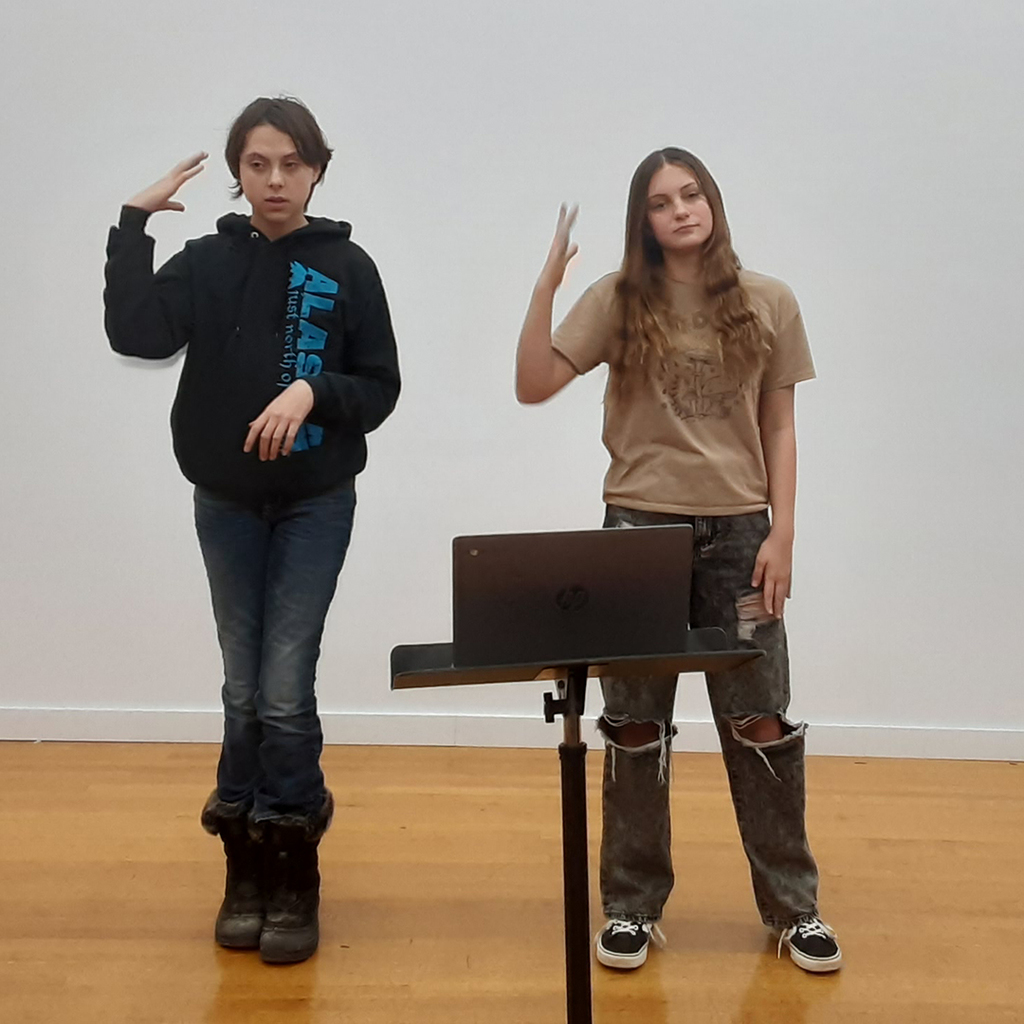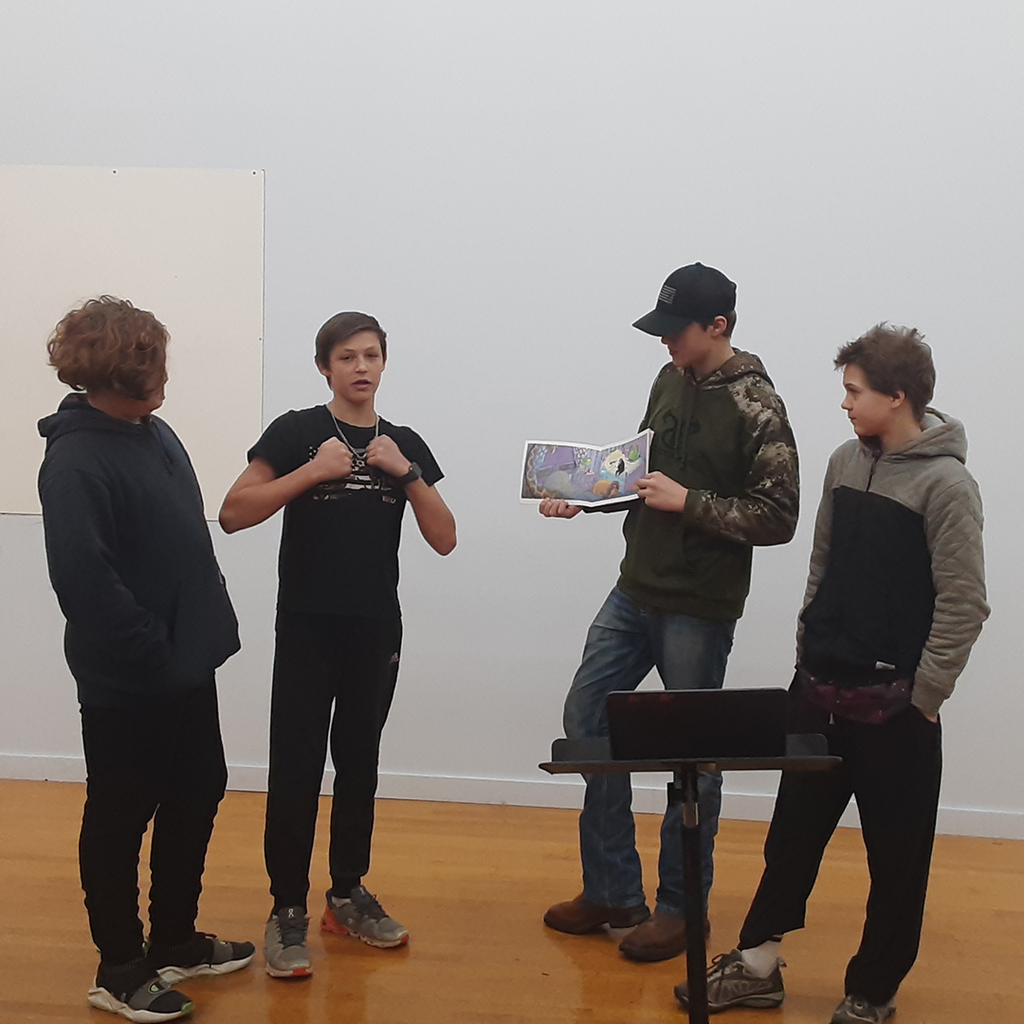 Come Join Our Pride! Eureka Public Schools is accepting applications for a Kitchen Worker. District Applications are available on the school website
www.lchigh.net
or at the EPS Central Office, 340 9th Street, Eureka, MT 59917. Please contact Anita at
awebb@teameureka.net
for any information or at 406-297-5650. Eureka Public School District #13 is an E.O.E.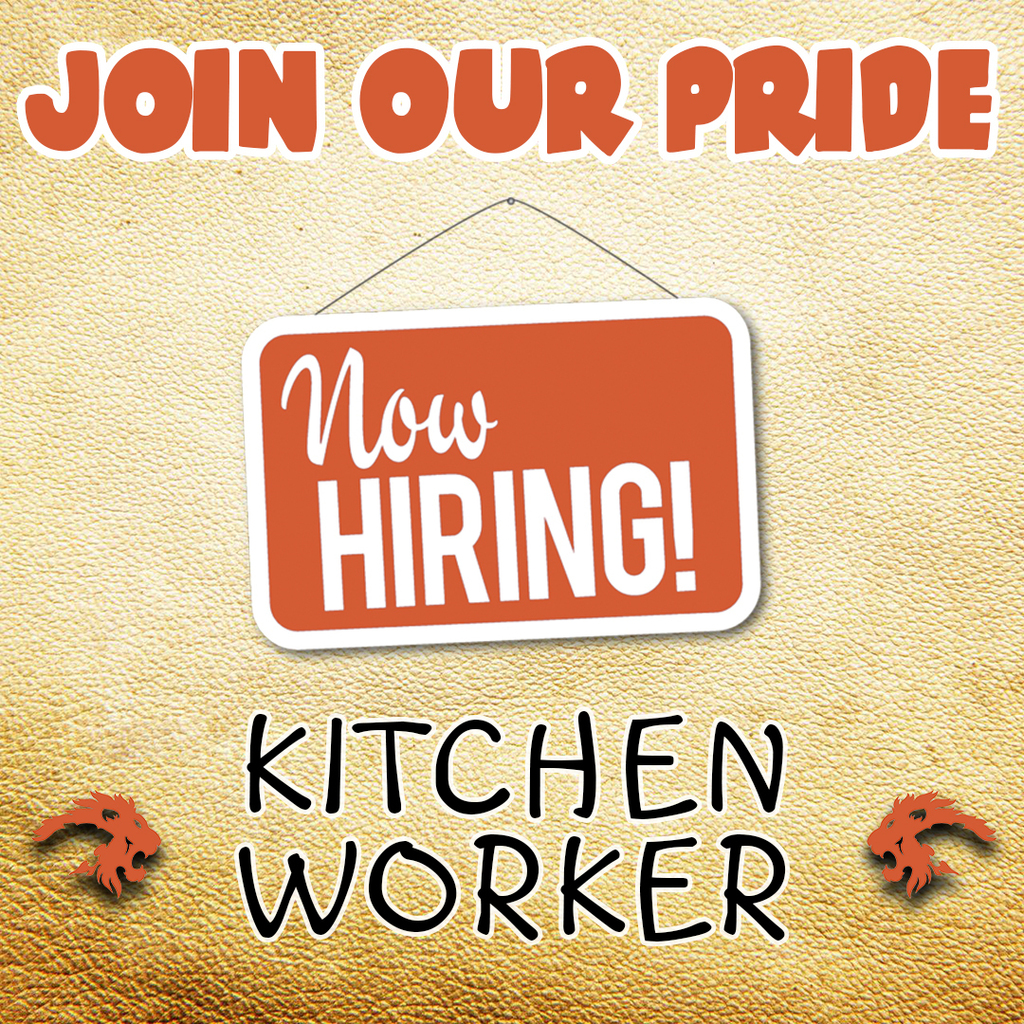 Eureka Public Schools hope you all enjoy the holiday season and the opportunity to spend time with your family and friends. We thank you all for the support of the district and its students. Our first day back from winter break will be January 4, 2023. Happy Holidays!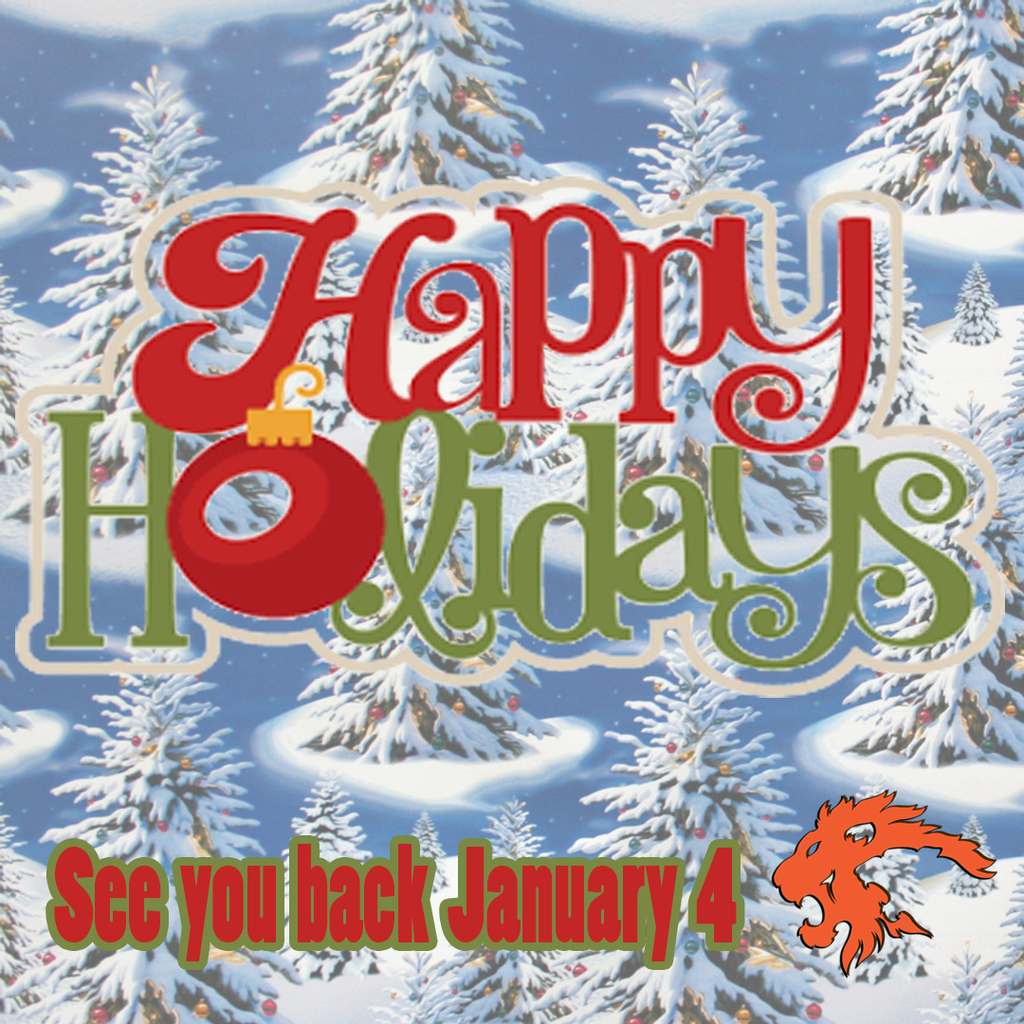 SCHOOL OPEN WEDNESDAY: Our schools buildings will be open on Dec 21, but we will not run our school buses . This is due to the extreme weather conditions. Of course you as parents can make the decision on whether or not you choose to send your children to school. We do remain open as it is the only options for many students. Our teaching staff will be here and we welcome all those who can make it. If you can't make it tomorrow, please let us know. Stay warm and enjoy a nice winter break. We are excited to see you back on January 4.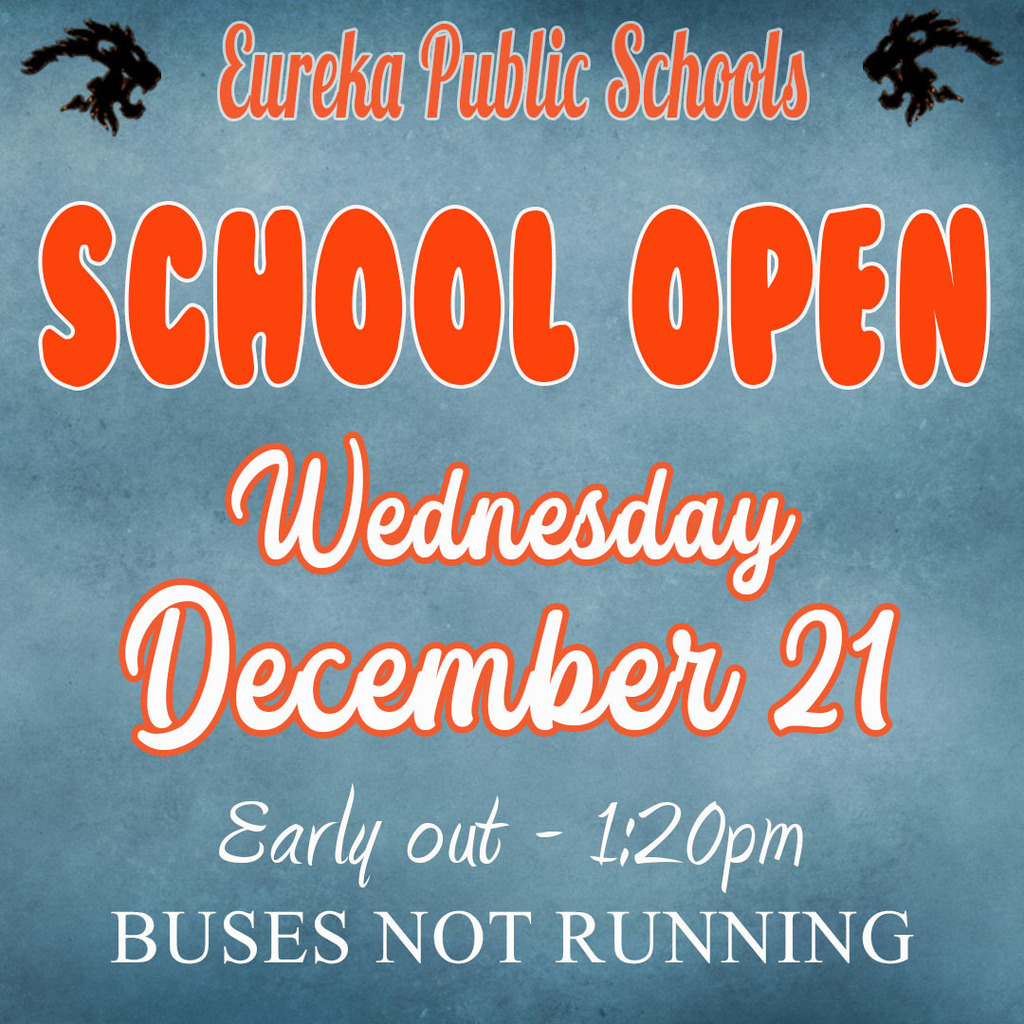 The Eureka Elementary Christmas concert scheduled for this evening has been postponed to the first week in January due to extreme winter driving conditions. We will be putting out some information on how the concert will be conducted in the near future. We will also cancel all after school activities this evening. Superintendent Joel Graves says, "I feel at this time it's best to get every student home while it's still light outside. I don't feel comfortable with students driving home from practices/activities in these conditions in the dark."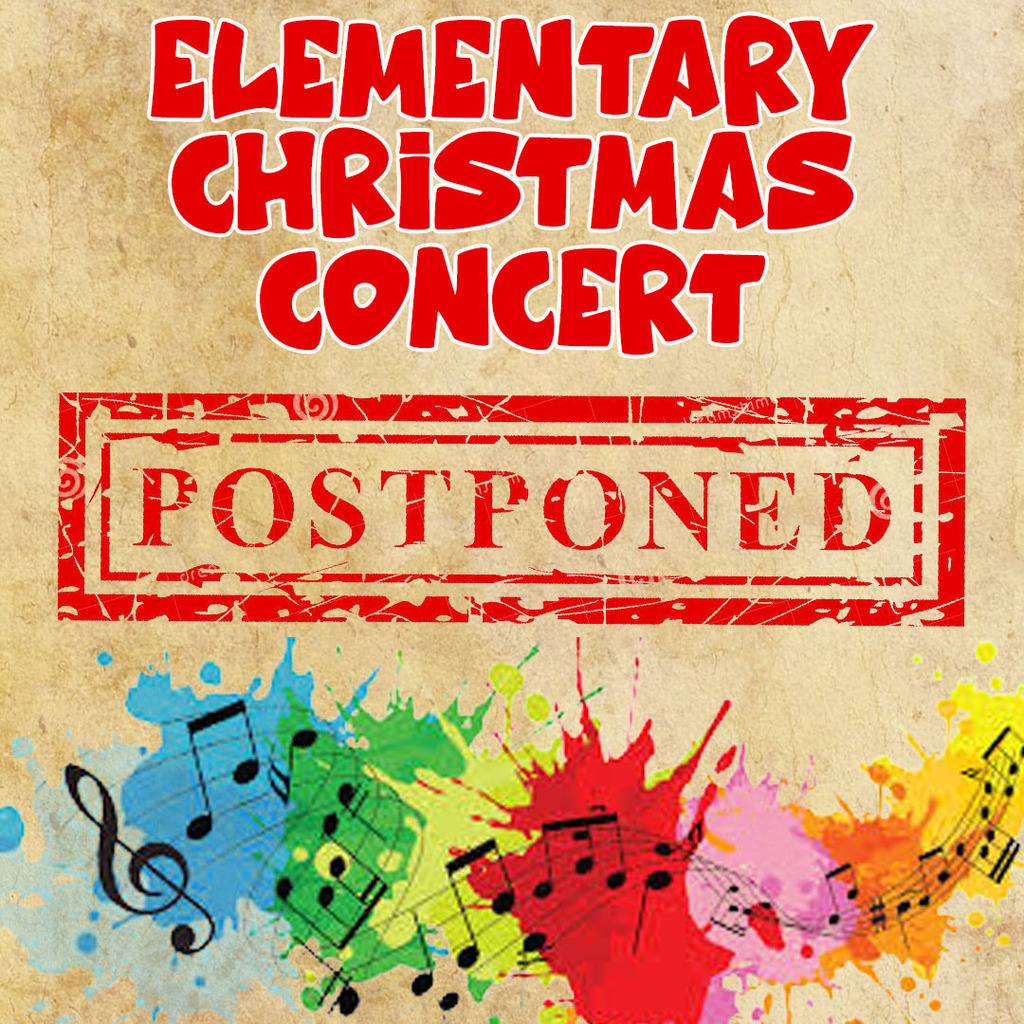 Shop with a Cop this Tuesday, December 20. We will have cops with sirens and lights pulling up to the elementary around 11:30am. Please do not be alarmed and start calling the school! Thank you area law enforcement for this great cause!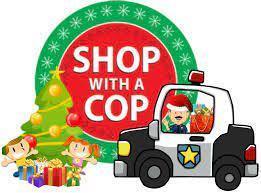 The Eureka Kindergarten Students spreading holiday cheer singing Christmas songs at the nursing home and senior center. They did a great job and everyone loved hearing them sing.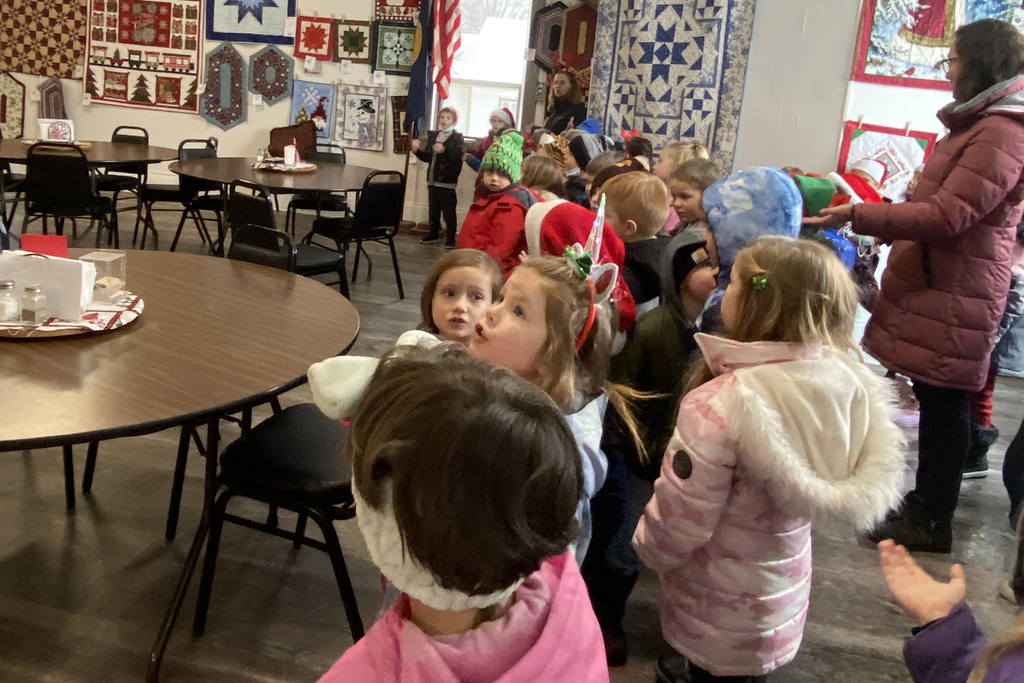 Eureka Elementary School is organizing a food drive to support those in need over the holidays. If you have the ability please donate dry and/or canned food items. Students can give to their teachers, or donated items can be dropped off at the front office. Your support is greatly appreciated.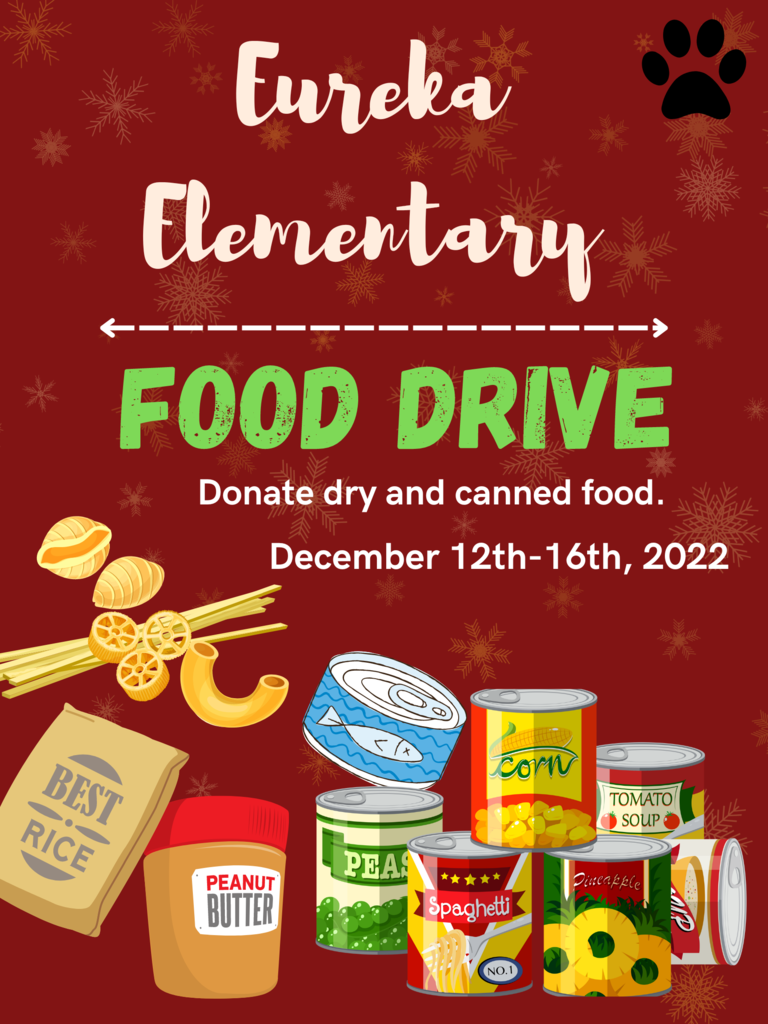 Our Winter Concerts are just around next week! The Junior High & High School Band and Choir concert is Monday, December 19 at 6:30pm. Our Elementary Concert is Tuesday, December 20. Elementary performance times are: Kindergarten at 5:30pm, Grades 1-2 at 6:00pm, and Grades 3-4 at 7:00 pm. Our students have all been practicing hard to get you all in the Spirit of the Holidays! Hope to see you there!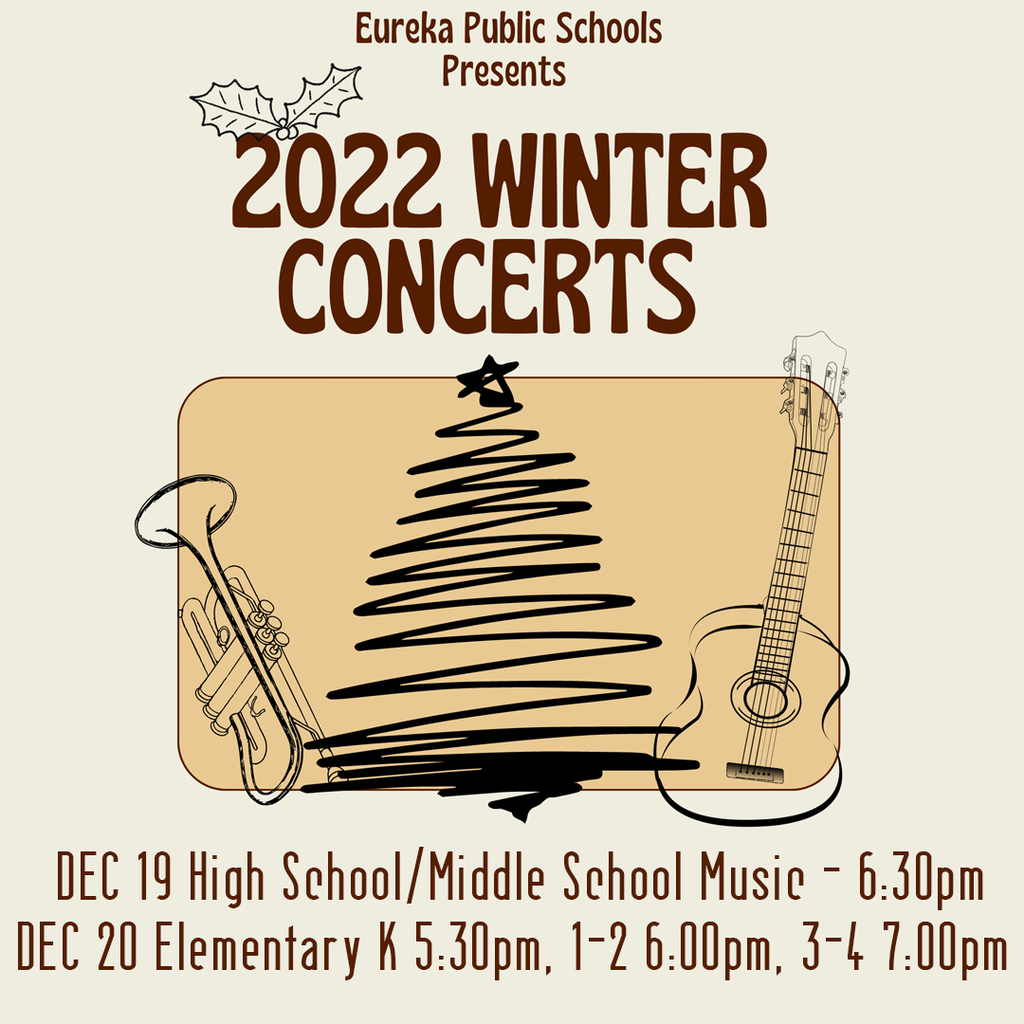 Notice of December 12 Board Meeting. 6:00pm in the LCHS Media Center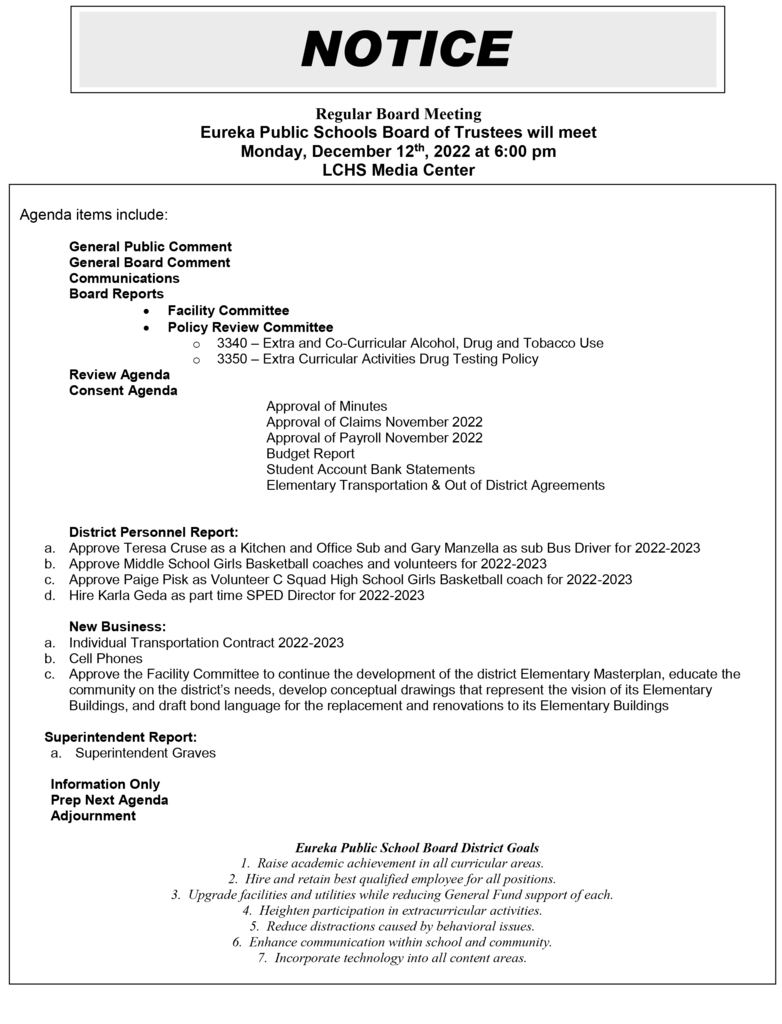 A Big Thank You to InterBel for donating First Aid Kits to the school. Your support of our students, activities, and athletics is very much appreciated!

Eureka Public School Board Notice for November 14, 2022. Meeting at 6:00pm.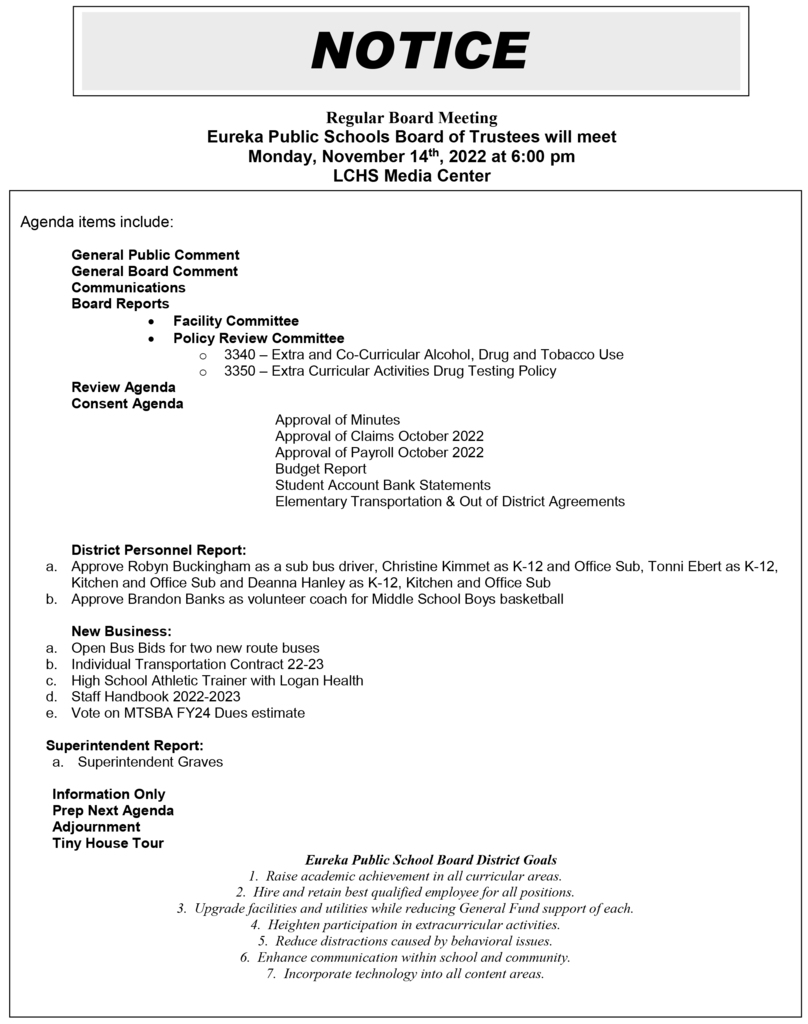 Reminder, please come join us this Thursday and honor our Veterans. Assembly begins at 10:15am in the LCHS Gym.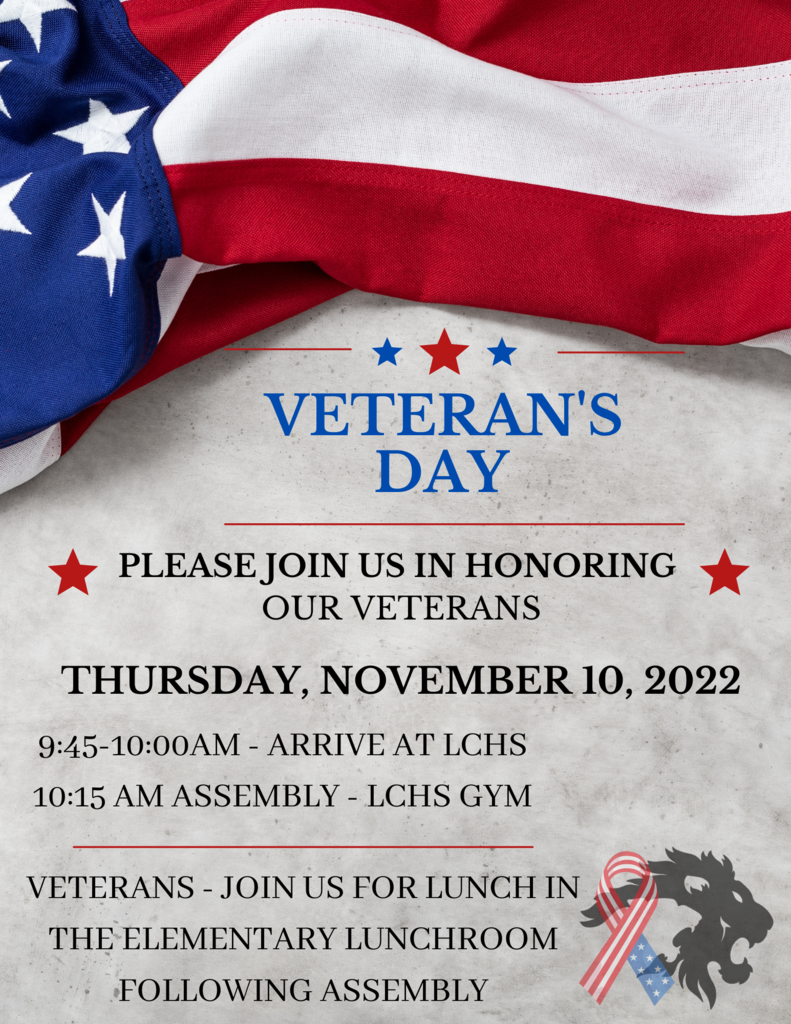 Sunburst Arts is excited to bring the Missoula Children's Theater to Eureka on November 14-19. This year's performance is Hansen & Gretel. Auditions will be held on November 14 at 3:45pm in the LCHS Auditorium. The performances will be held on Saturday November 19 at 3:00 and 5:30. Approximately 50-60 students will be cast to appear in the show. For more information, please click on the following link: tinyurl.com/3zkdjtb6. If you have any questions please contact Sunburst Arts at
mtsunburst@yahoo.com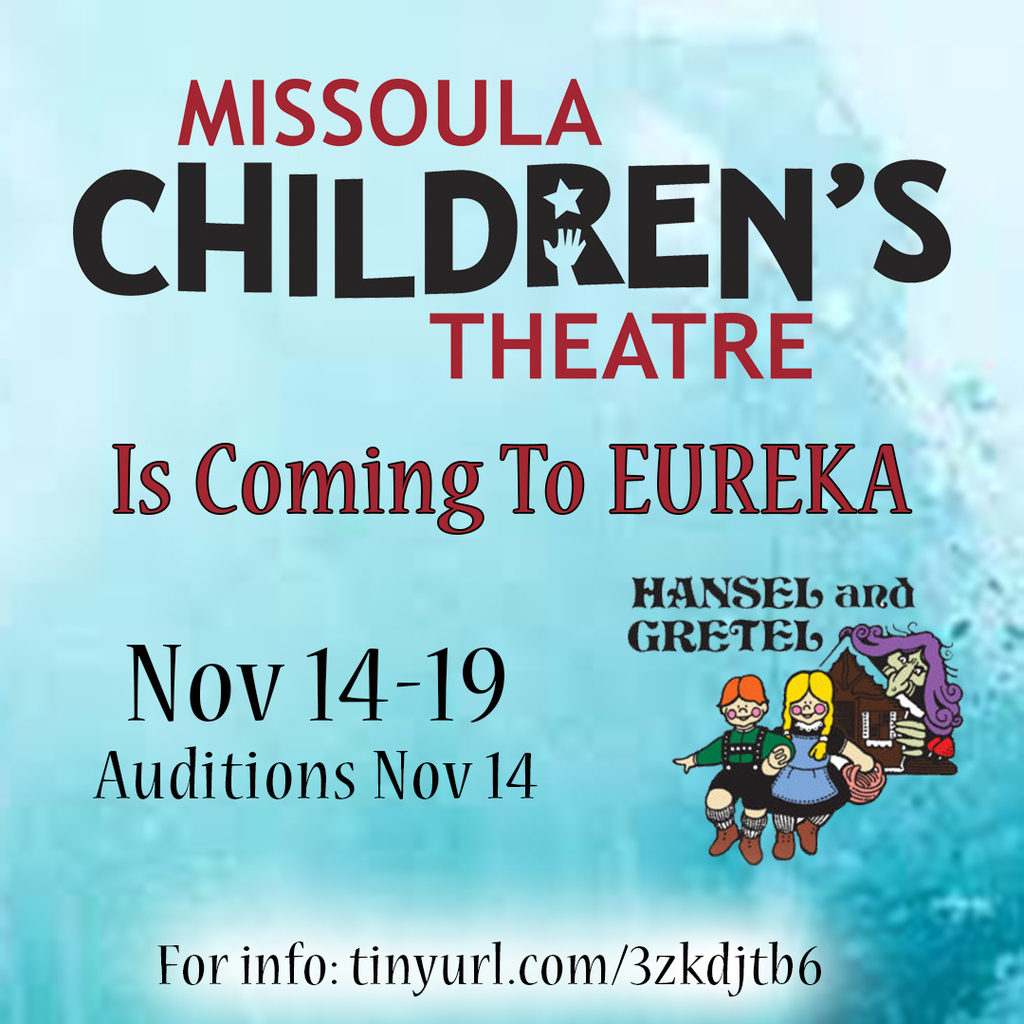 Drivers, we have had 5 red light bus stop sign violations in only 2 months since school started. Please be safe around school buses, and if you see amber lights, slow down. When lights are flashing red and the stop sign is extended, you must stop. State law states you must be approximately 30 feet away from the school bus at any stop. As a reference, most pickups are around 20 feet in length, so a good rule of thumb is to stop 2 car lengths away from the bus at a stop. Let's keep our kids safe!